Regular cleaning is essential to maintain your Traeger grill properly. So, how can you maintain the pristine appearance of your Traeger grill through the summer? In this article, we'll give you a step-by-step tutorial on cleaning your Traeger grill and recommend the finest cleaning supplies to use so that it not only looks wonderful but also performs at its best for a long time.
Consider buying a cover.
Before we start cleaning your Traeger barbecue grill, we should consider how to protect it. If your grill is not adequately protected, it will be left vulnerable to the weather. Regular exposure to the elements can cause the grill to rust and corrode, drastically reducing its lifespan.
A grill cover is a fantastic method to provide protection if you store your Traeger grill outside. A grill cover can prevent water from penetrating the grill's numerous parts, leading to rust damage. Most of us don't use grills when snow is on the ground; storing your barbecue grill indoors during the year's colder months is a good idea.
How frequently should my grill be cleaned?
After every two to three uses, or at least every 20 hours of cooking, we advise cleaning the grill. However, you might need to clean it out more frequently if you're cooking greasier things or after a long cooking session.
Cleaning a Traeger Wood Pellet Grill
The first and most crucial thing to remember is to wait until the grill has completely cooled down before cleaning.
Vacuum out your Traeger Grill
Start by vacuuming out your Traeger Grill to remove ash and dust properly. Additionally, we advise using the Stanley SL18116 Wet/Dry Vacuum. Its 6-gallon capacity, the convenience of use, and robust 4.0 horsepower vacuuming ability make removing grease, dust, and dirty water from your Traeger Grill simple.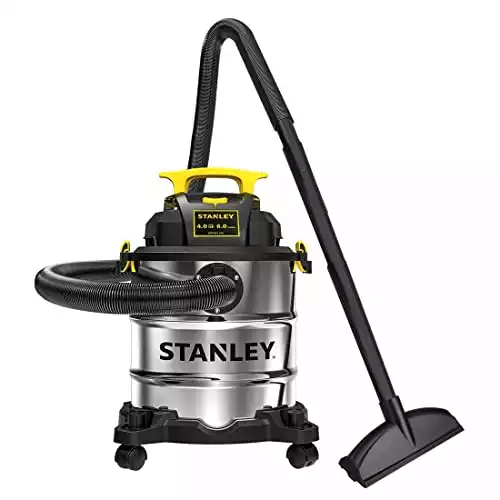 We earn a commission if you make a purchase, at no additional cost to you.
For this entire process, I prefer to wear gloves. Use either reusable or disposable dish gloves at your discretion. I have a reasonably priced set of reusable dish gloves that I use only for cleaning the grill.
Wash the grates on your Traeger Grill
I would advise you to bring things into the kitchen and wash them in warm, soapy water if they are caked with food and filthy.
Brush the unclean and greasy parts before washing them to prevent them from becoming too sticky and oily when you begin washing them with soapy water. If you have porcelain grill grates, use a sponge and nylon scrub instead of an abrasive cleaner to protect the porcelain finish. You can use the Traeger Pellet Grills BAC537 BBQ Cleaning Brush with its nylon bristles that won't damage the grates and stainless steel construction.

We earn a commission if you make a purchase, at no additional cost to you.
The grates clean up fairly nicely with warm, soapy water, despite previously appearing greasy and dirty. When cleaning Traeger grills, we prefer to use the Traeger Grills BAC403 All Natural Grill Cleaner, which works quite well.
Our Pick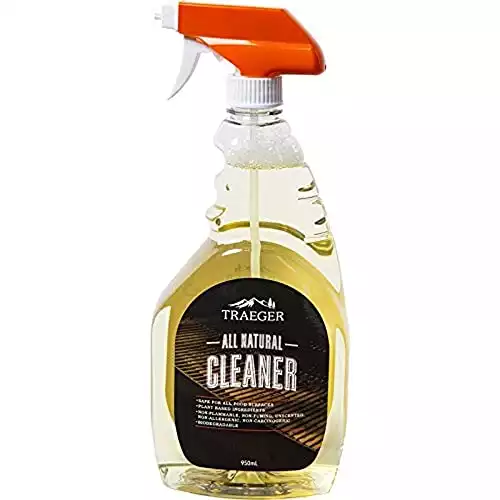 We earn a commission if you make a purchase, at no additional cost to you.
Remove the drip tray, and dispose of the used aluminum foil.
Re-cover in brand-new, heavy-duty aluminum foil. You can use the extra-large heavy-duty size that fits the drip tray well.
Please, please, always wrap aluminum foil around your drip tray. Use the standard sort even if you don't have the heavy-duty kind. Using ordinary thickness foil, you can double it if you want, but it's unnecessary. Just make sure to cover it up!
Remove the heat baffle.
The heat baffle, which covers the hot pot and spreads the flame, is located right beneath the drip tray. The hot pot is where the pellets fall and ignite for your flame; if you're unfamiliar with what I'm talking about, your Traeger grill's hot pot will be visible once the heat baffle has been removed, along with possible fine dust particles.
What you'll see doesn't appear to be ash; rather, it resembles darker table saw dust. Get your shop vacuum out. I wouldn't advise using your standard household one if you can help it. Not because the grill dust will damage your vacuum, but to keep your nice home vacuum free of grease stains. So we highly suggest the Stanley SL18116 Wet/Dry Vacuum.
You should vacuum the entire base of the pellet barrel grill and the tiny space inside the hot pot. If you vacuum up a few wood pellets, it won't matter because more will fall when you turn your grill back on.
Remove the grease
The last step is to remove the oil trap grease bucket and wash it with a detergent; after that, re-assemble all the parts, from grease bucket to grill cover, and you're ready to go.
How can I clean my Traeger Grill without washing it?
You may get away with a quick, soap-free clean if you keep your grill in good condition. Allow the grill to cool to a temperature between 250 and 300 degrees. Then, you may use a grill brush, Traeger Pellet Grills BAC537 BBQ Cleaning Brush, or, if you're feeling creative, a wadded ball of foil to scrub off the char that can accumulate on the grates.
Remember that this is only a temporary fix. To give the grates a more thorough clean, you will eventually need to soak them, and this should avoid significant food and char buildup. Giving your grill a short brush with the grill brush can keep it looking fresh and clean, ready for your next culinary endeavor.
Conclusion
Using these tips, cleaning up your Traeger grill becomes much less tedious. It will survive for many years if properly cleaned and maintained.
You can also use our cleaning supplies link for quick and simple ordering. The cleaner gives protection and does a flawless job of cleaning your grill, and it surpasses all the other cleaners we have reviewed by at least one grade.
Whatever cleaner you select from this list, we can ensure you won't have to worry about lingering grit ever again.
Enjoy more grilling days in the future by following the procedures above.
And if you find this article helpful or have any suggestions, feel free to reach out to us!